I received many questions regarding the battery choice and required part number for the D8 ZETEC, which is mounted in a rather unusual place, directly in front of the timing belt and alternator drive belt. Please make sure battery terminal leads are not able to touch the alternator drive belt!
On the road tip
It might be useful to carry a hose of sufficient length to be able to reach the battery filling points in case of low acid levels in your battery on a road trip without taking off the nose cone of the car. The battery can also be reached when pairing 3 straws! Just take a sip from a water bottle and refill your battery by using your mouth like demonstrated below.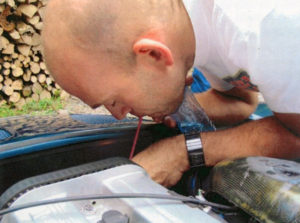 A POWERSPORTS Freshpack 520 012 020 from VARTA is used.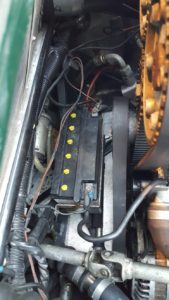 VARTA® Powersports Freshpack batteries are powerful, long-lasting batteries that are simple and cost-effective to install. You'll get reliable starting power from the very first rev, time after time. And when you put the battery through its paces in the most demanding of conditions, it consistently delivers exceptional power. Plus, with 41 models covering every kind of powersport, there's sure to be VARTA® Powersports Freshpack batteries that are made for the job.
Powersports Freshpack Key Benefits
Dry-charged battery delivered in Freshpack version (with acid bottle)
Reliable starting power in hot and cold weather
Robust construction to withstand vibration whether you're powering along rough trails, across snow or over the waves
Fulfills JIS standard norm
Spill and leak-proof (for upright fitting only)
Why VARTA® Powersports Freshpack batteries?
Powered by Johnson Controls Power Solutions, VARTA® Powersports Freshpack batteries are trusted by customers globally. VARTA® Powersports Freshpack batteries provide longer life, less corrosion and lower cost of ownership.
Preparation
Preparation of the battery (1)
Carefully remove the battery plugs by twisting an removing them simultaneously.
Opening the de-gas plug (2)
Carefully remove the red cap before topping up the battery.
Opening of the battery acid container (3)
Wear protective glasses! Carefully cut the container with a pair of scissors. Leave aprox. 10 mm to be able to mount the filling hose.

Mounting the filler hose (4)
Mount the filler hose carefully on the acid container.
Topping up of the battery (5)
Slowly top up every individual cell of the battery until the maximum level as indicated on the battery housing. The acid quantity is exactly sufficient.
Environmental waste (6)
The acid container is suitable material for recycling purposes. Please follow the indications of your local waste handler.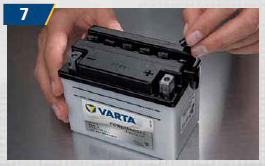 Re-fitting the filler caps plugs (7)
Carefully refit the filler cap plugs. The gas valve remains open. It is allowed to mount an open extension tube of 20-30 cm.
Maintaining optimal condition
Remount the battery and use a trickle charger to keep your battery in optimal condition, preferably from CTEK (MXS 5.0)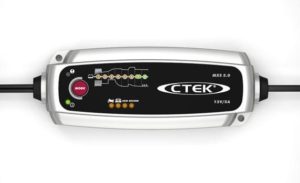 Battery order information
European Type No. (ETN): 520 012 020
Article Number: 520 012 020 A51 4
Short Code: Y50N18L-A2 (Y50-N18L-A)
Barcode: 4016987140598
Technical information
Voltage [V]: 12
Battery Capacity [Ah]: 20
Cold Cranking Amps (CCA), EN [A]: 260
Length [mm]: 207
Width [mm]: 92
Height [mm]: 164
Base Hold-down: B00
Layout: 0
Terminal Types: Y7
Venting: GaL
Weight filled (kg): 6,40
Weight (kg): 4,70
Alternatives: 
YUASA, the same dimensions
BOSCH M4 F47 (expensive)