I receive many questions regarding dash switches renewal and what type of rocker switches are used. The manufacturer is Trillogy. The current switches can be refurbished sometimes using plastic recovering fluid. When that does not help, you can replace the for brand new ones for around 15 Euro's each. This will give your car a much more TLC-look.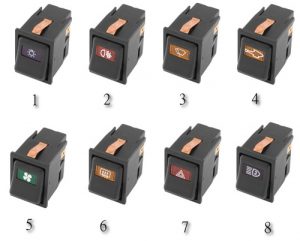 These Illuminated Rocker Switches from Trillogy are manufactured to imitate OEM style dashboard switches. They feature illuminated rockers and are ideally suited to the classic or kit car builder.
Switches have a current rating of 16 amps and will require 21x30mm cutouts.
The main terminals on the Trillogy Illuminated rocker switches are a round post type. For ease of wiring, a suitable terminal block is available separately, see (have you also considered) section.
They can be ordered via Demon Tweeks in the UK here.
If the switches itself are OK, but illumination is failing, you can simply replace the 1,5 Watt mini-light bulbs. The part number is: GLB280 (for S8, S8AT, Cosworth, ZETEC & early Audi models only). You can Google potential suppliers. They are widely used in Mini's. Price around 3 Euro's.