To help out fellow Donkervoort owners who are confronted with technical problems, we already do a lot of business with Beek Autoracing in The Hague. But we now have a second trustworthy partner added to the list of Donkiespeed service partners. On Friday the 26th of October we visited Hans Sloot Autotechniek in Lochem. Hans is a former employee of JD Engineering and started is own company around 10 years ago. JD Engineering in Lochem is one of the companies involved as a subcontractor in the engine mapping software development of the previous D8 for the Donkervoort factory.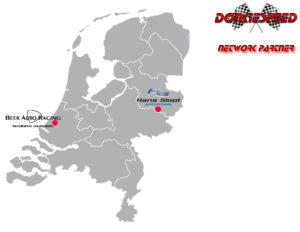 Hans was asked to resolve a severe problem with a D8 270 RS. This RS had problems with low idle speed and cutting off for no reason. There was a strange issue with the Lambda ratio (air & fuel mixture). The Donkervoort factory strangely enough could not detect and resolve the problem.
The data of the 270 RS was analysed using a laptop under a dynamic driving test on the road. The oxygen sensor was giving a fault code. The oxygen sensor was replaced, fault codes erased and the problem returned. The car stayed in the workshop over a longer time frame.
Various cables and connections where checked and several interferences and problems where detected. Two cables where indicating a higher than normal resistance and one connecting plug was not properly mounted. Two wires in the main wiring loom where replaced.
A smoke test indicated that the exhaust welds where cracking severely around the mounting spot of the oxygen sensor. The exhaust was properly welded and the problem resolved.
This was all resolved within a fair and reasonable budget and fair labour rates. The crew at Hans Sloot is in total 6 high educated mechanics and the company is still growing. Hans is capable of all the regular maintenance and diagnostic work on your Donkervoort. Both Audi and Ford powered. Hans has all the manufacturers tools and diagnostic software available. They love our Donkervoort cars and serve great coffee and are open, trustworthy and friendly communicators. Pick-up and return service will be available in the near future. N-joy!