I am not a great fan of headsets, because it looks over the top and a bit silly in an open and sporty vehicle like the Donkervoort. On the other hand when driving with serious speed and touring with ear plugs in, you are not able to communicate with your driving partner in a normal way for the majority of the day. That annoyed me, but Jacky even more.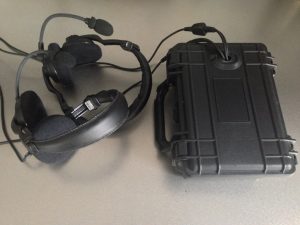 Standard bluetooth headsets are not an option for several reasons. It was a nice day today to build this waterproof touring dual communication set based on a professional light weight high-end Helicopter system, which is equipped with:
Surround noise reduction
Wind protection
It is wired
Full stereo
Fully connected with the Garmin navigation system and IPhone.
It can be stuffed in the back end of the car or between the right front seat and chassis.
The system can be powered by either a 9v battery autonomously or via the 12v vehicle power plug. The price of these aviation systems are starting at around 500,00 Euro plus a few Euro's for a water proof photo casing.