Operation – Overview of the fuses D8 1999 – 2009 (click images to enlarge)
Fuses
The separate switch-leg circuits are fitted with cut-out fuses for safety purposes. The fuses are located under the bonnet on the right hand side (see photo). In order to open the fuse-box, the two tags should be pressed inwards and the lid lifted off.
Replacing a fuse
Switch off the relevant circuit.
Remove the burnt-out fuse (can be recognised due to the fact that the metal strip has melted) with the plastic clamp.
Replace the burnt-out fuse with a new fuse with the same ampere value.
If the fuse melts again within a short period of time, the electrical installation should be checked first.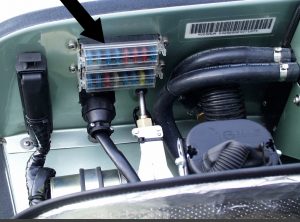 Light brown 5 Amp
Red 10 Amp
Blue 15 Amp
Yellow 20 Amp
Transparent 25 Amp
Green 30 Amp
Fuse layout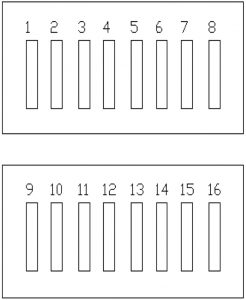 | | | |
| --- | --- | --- |
| 1 | Alarm indicators, interior lighting, acc.plug | 15 A |
| 2 | Dashboard meters, De-activation and rear fog lamp | 10 A |
| 3 | Brake lighting | 10 A |
| 4 | Reverse light, brake fluid float, speed-sensor and horn | 10 A |
| 5 | Fuel pump | 15 A |
| 6 | Booster coils | 15 A |
| 7 | Carbon filter, air mass meter, lambda sensor | 15 A |
| 8 | Ignit. module/turbo pressure valve | 15 A |
| 9 | Full beam headlights | 15 A |
| 10 | Dimmed headlights | 20 A |
| 11 | City lights, nightlights dashboard | 15 A |
| 12 | Cooling fin | 15 A |
| 13 | Radiator | 25 A |
| 14 | Accessories plug, ECU voltage | 10 A |
| 15 | Windscreen wipers and windscreen washers | 15 A |
| 16 | Indicators | 15 A |