A great day for Dutch racing all around race tracks in Europe. Dutch driver Max Verstappen wins the Spanish F1 Grand Prix; Donkervoort Racing – with Donkervoort CEO and driver Denis Donkervoort – WON the sport auto High Performance Days Tuner Grand Prix 2016! Donkervoort Customer Racing – a division of Donkervoort Racing aimed at supporting and 'training' Donkervoort drivers with racing ambitions – took three D8 GTO's to the famous Hockenheimring in Germany last weekend to compete in the High Performance Days organised by German car magazine Sport Auto.
After a smart fourth place in the qualification, the Donkervoort D8 GTO Bilster Berg Edition driven by Denis Donkervoort fought its way through the final race on Sunday—beginning with a reversed-grid start (fastest qualifying time at the back, slowest in front) followed by a fierce battle with competing cars, including a Porsche 991 GT3 Cup and a Viper ACR with a whopping 850 hp—to achieve victory!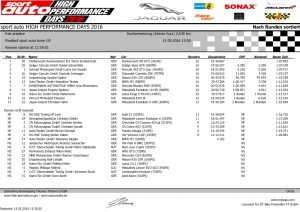 Donkervoort was the fastest on the 2.6-kilometer-long small track of Hockenheim. The motorsport experienced test editors of sport auto test here annually around 100 sports car on the limit. 'Fighting' was done in different vehicle classes – from small cars to modified diesel sedans to high-bred super sports cars.
After the race Denis Donkervoort said, "It's fantastic to see that the GTO in a fully street legal version can compete with pure race machines such as the Porsche and Viper.
That makes the kick when you pass the finish line first all the greater and once again proves the speed and potential of this car on the track!"
The results of the breath taking final can be found on the data-sheet which can be enlarged.