Joop Donkervoort, founder of Donkervoort Automobielen B.V., received a special honor award as an ex student of IVA Driebergen Automotive Business School.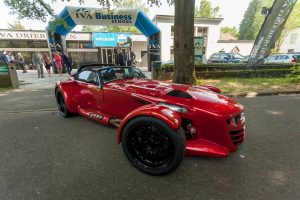 IVA in Driebergen is a private institute for professional education that offers bachelor programs in Business Administration. Education at IVA in Driebergen is tuned to the needs of the corporate industry.
Students may expect a business oriented approach to teaching. At the IVA students will be trained for technical and commercial, organizational, and managerial positions.
Since its foundation in 1930 the IVA has made a name as the Institute that trains enterprising students. Entrepreneurial education, very well adjusted to the requirements of trade and industry, is central to the IVA-training.
The curriculum is aimed at the Dutch as well as the international branch in the first place, but because of its entrepreneurial character it turns out to be very well adapted to the requirements of many other branches of industry. The IVA Business Management Program was recently voted as best college program in The Netherlands and has been in the top 3 for more than 7 years in a row.
Joop Donkervoort gave a presentation about realising your dreams. After his presentation he received an honor award presented by the Managing Director of IVA Driebergen, Mr. Vermey. Joop's name was given to a technical class room at the IVA premises. This all between great names in the industry such as Enzo Ferrari, Ferdinand Porsche and Carl Benz.
We are proud on Joop and the life time achievement of 'Atelier Lelystad'.