Today founder Joop Donkervoort and Denis Donkervoort were special guest in the Business News Radio studio (BNR). Talking about heritage and future of the Donkervoort brand. And Joop Donkervoort gave a scoop already predicted earlier by Donkiespeed. 
Denis Donkervoort mentioned that the green RS colour is actually a Lexus IS250 color. The Dutch sports car brand Donkervoort releases an anniversary model, the GTO 40. That's what founder Joop Donkervoort announced in the National Auto Show at BNR. The new model will be presented on the 11th of May, prior to the celebrations on Saturday the 12th. The reason is the 40th anniversary of the Lelystad brand.
It is clear, however, that Donkervoort is not yet talking about an electrical drive line, despite the fact that Donkervoort receives demand from the market. The brand works closely with Audi. Hybrid and electrical powertrains are becoming a focus point for Audi. 'The Donkervoort brand stands for lightweight and pure. Who knows, maybe in ten years with an electric powertrain, "Denis Donkervoort said.
The link to the podcast in Dutch here.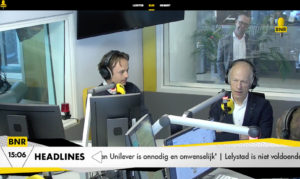 Click image to enlarge!