A step further, a step bigger, a step more extreme…!
At the beginning of the year, the outside world was given a first 'dark' impression of the Donkervoort D8 GTO-S, D8 GTO-RS as well as the D8 GTO-R scheduled for the end of this year. But the veil is being lifted slowly. Donkervoort is now proud to share the first glimpses of the beautiful D8 GTO-RS scheduled for introduction by September / October 2016.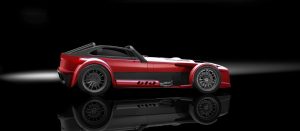 Donkervoort D8 GTO-RS | The return of a legend…
The legendary RS is back! And its ambitions are equal to those of its predecessor, which drew the world's attention when it set the lap record at the Nürburgring Nordschleife in 2004 and 2006.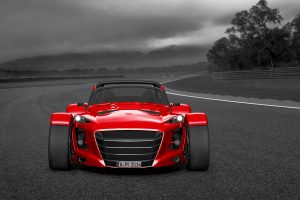 This will be the ultimate D8 GTO! Completely redesigned over the past two years – both in terms of design and at the technical level. Even meaner, more extreme and slightly larger in size. This is clear at a glance from the design of the nose and front end: the GTO-RS has an even wilder look in it's eyes.
Lots of work was invested into the improved aerodynamics, and the engine management of the Audi 2.5L R5 TFSI, which was optimised with the assistance of long-term partner Bosch for even more acceleration power and driving comfort. In addition to the EU-6 application, the collaboration with Bosch also led to several other lap time-enhancing features, such as launch control and a double-clutch function.
Thanks to a new suspension, the GTO-RS has a wider track width, benefits of which include a stronger grip on the front axle. The brake system was also completely redeveloped.
A brand new feature is that Donkervoort now offers carbon ceramic brakes as an OEM option. Even more aesthetically refined, higher quality, with greater technical and functional performance.
This is also reflected in the new interior of the D8 GTO-RS, including a brand new digital dash display specifically designed for the GTO-RS.
Still fully made-to-measure. Also new: the RS is fitted with a carbon fibre tunnel section.
Despite all these options designed to provide the ultimate and most extreme performance, the D8 GTO-RS remains a completely street-legal sports car with associated comfort level. The lightest and fastest GTO ever built!
Wrap up of some of the new RS features:
New designed and wider nose cone with less drag, more downforce (60Kg!) & higher corner speed
New designed rear bumper
Side skirts
New designed exhaust rear end pipes
New designed INTRAX ARC shock absorbers with a more upride position in the front suspension system
3,5 cm more front track with
Carbon doors with poly-carbon / ceramic side windows
Carbon propshaft cover to reduce center vehicle torsion
Continuation of the cast iron 2,5 TFSI engine instead of the full aluminium version!
Optimised engine management system with more low-end torque (500 Nm) and over 415 BHP
New designed air intake and exhaust system
Larger aluminium intercooler and radiator, no side coolers anymore
Optimized and more refined traction control system
Automatic double clutch system (when down shifting) to save gearbox and differential
Differential cooling system (optional)
Optional carbon ceramic brakes
Optional sequential gearbox
Optional Bosch adjustable race ABS system
Bilster Berg side impact bars now standard
New AIM MXS 5-Inch high contrast digital TFT dash racing display with ambient light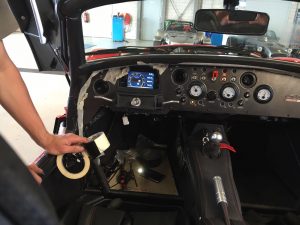 The D8 GTO-RS will be introduced in the summer of 2016 as a limited edition of 40 cars and has a starting price of €151,173 excl. taxes. So far, already 21 units have been sold among the Donkervoort Ambassadors in the pre-sale period.