The Donkervoort factory uses TSL in engines and gearboxes. TSL is a pure liquid without solids such as PTFE (Teflon), MoS2 (molybdenum) or graphite, which can cake, clog and/or settle. TSL is fully absorbed by the oil and carried by the oil flow to the surfaces to be lubricated, where the electropolar molecules react under stress and form a synergetic bond with metal. This bond is virtually unbreakable. Surfaces lubricated in this way are thus impenetrable, smooth and stable, which will significantly reduce friction.
After intensive testing in several Donkervoorts, my old Volvo's and my daily driver I come to the conclusions that this product is highly recommendable and definitively no 'bull shit' product!
Excellent Qualities
Fuel saving, fuel and energy savings of 10% – 15% are possible. Many cases have proven this. Lowers maintenance costs. Reduces friction and consequently wear.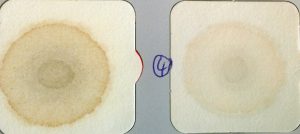 On the lefthand side is the 6-cilinder 3.0 petrol engine of my daily driver. The right hand side is 10.000 km later after adding TSL. Less metal parts and wear can be found and diagnosed in the engine oil! This is diagnosed by using the TüV recomended Engine Checkup system which we also distribute.
Thanks  to TSL engines last  considerably  longer. Protects against pollutants.  The unbelievably strong coating that TSL forms on the surface of the metal is not affected by pollutants. Protects against temperatures of up to 315° C. Prevents damage due to cold starts. Scientific research has proven that 70% of the wear to the engine takes place during a 'cold' start. TSL prevents this.
Applications
Petrol, diesel and gas-driven engines, generators, digging machines, cranes, tractors and other agricultural machinery, forklift trucks, hydraulic systems, pumps, compressors, bearings, differentials ( electrical/mechanical), transmissions, gear casings, hand-shifted gearboxes, 4×4 off-road vehicles, lawnmowers, chainsaws, inboard and outboard boat engines, motorbikes and Quads.
Note: NOT suitable for LSD's (Limited Slip Differentials) and not allowed in the D8 GTO (engine & gearbox) due to other specific oil specifications and dopes used by the Donkervoort factory.
Use
TSL can be used in combination with any lubricating oil, including synthetic oils. For the first application in the crank-case use 50ml per liter and for further oil changes 30ml per liter. For any other application, e.g. hand-shifted gearboxes, gear casings etc. use 30ml per liter and repeat this with every following oil change. Here you can find the OEM  specification recommendation for your Donkervoort engine. If you want to test your engine first for wear we offer a unique product. We have it in stock.
TSL also offers a
solid grease
which is extremely suitable for the lubrication of
wheel bearings
and
drive shaft joints
! All TSL products are in stock
and can be ordered here
. Do not hesitate to contact us in case of any further enquiries.