Just as a doctor only requires a single tube of blood to carry out a health test, every MOTORcheckUP test only requires one drop of oil to find out if your Donkervoort Ford or Audi engine is still 'healthy'. Turbo failure can also be diagnosed by using MOTORcheckUp.
Regularly check your engine oil and fluids. With MOTORcheckUP and FLUIDcheckUP you can determine the condition of your engine and fluids in a simple manner. Through early diagnosis and remedial treatment of possible malfunction, you will save money and extend the working life of your engine or turbo, save fuel and last but not least your engine performance stays optimal.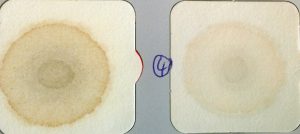 If you require further information over the products and possibilities please mail me @ donkiespeed@donkiespeed.nl
Availability via Donkiespeed:
Single test: 12,95 Euro, in stock
Duo test: 14,95 Euro, in stock
6-pack test: 24,95 Euro, in stock
Prices ex. shipment (Europe) Shipment included for The Netherlands.