The Donkervoort cooling system on Ford engine equipped tends to cause overheating. This is the ultimate solution to re- arrange your cooling system piping to prevent this.
Next to the discussion and advise if you should utilize a brass or aluminium radiator, the cooling in itself of Ford equipped Donkervoorts can be easily modified. The standard setup problems are caused by the modified and closed thermostat housing. This causes air bubbles not being able to exit from the cilinder head of the engine causing severe corrosion. Air bubbles do not travel downwards!
If you modify the thermostat housing by means of a connection towards the cooling fluid expansion reservoir, the air in the cilinder head is able to breath out of the cilinder head. The hose now connected to the cooling fluid expansion reservoir is coming from the radiator. This should be disconnected and now be connected with the hose coming from the thermostat housing.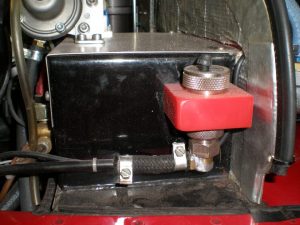 The hose coming from the radiator can be equipped with a high quality automatic breather unit coming from a home heating system. See picture device next to the pedal box.
The 2nd problem is that the smaller radiator is also connected the wrong way. Air bubbles are not able to automatically leave the system. It is required to brass solder a 8 mm breather pipe on the top of the small radiator, so that build up air can leave the radiator. This can be connected by a T connector coming directly from the thermostat housing. The thermostat should be on an operating temperature of 82 degrees. The fan thermoswitch should be a 95/90. When you mount a relais, the 2nd smaller cooling fan can be controlled by the main cooling fan. In that case the separate cooling fan thermoswitch is not required.
When modifications are performed as described above, the cooling system is now automatically de-breathing in itself and therefore working as it should be working. This prevents cilinder head gaskets popping out and several other overheating problems.